None of them comes with a bounty on their heads
(we don't want to CATCH them - we just want them to go away!)


The "Values Voters Summit" will descend upon our psyches in September. Tony Perkins' bigotron is notable because it's guest list is sprinkled with a few tokens, but not enough to scare the attendees.

This list would be hysterical if it weren't so frightening. To imagine these people in the same room is a nightmare no Freud would dare to interpret. Some are stupid, some are insane and some are just plain Christofascist. The list is also very telling because of who was NOT invited to speak (or had "prior commitments"): Ann Coulter, Newt Gingrich, Michelle Malkin, Maggie Ghallagher, Dick Cheney, Rick Warren.
And here's a run-down of the seminars being offered:
SPEECHLESS - SILENCING THE CHRISTIANS
THUGOCRACY - FIGHTING THE VAST LEFT WING CONSPIRACY
DEFUNDING PLANNED PARENTHOOD
ACTIVISM AND CONSERVATISM: FIT TO A TEA (PARTY)
THE THREAT OF ILLEGAL IMMIGRATION
OBAMACARE: RATIONING YOUR LIFE AWAY
MARRIAGE: WHY IT'S WORTH DEFENDING AND HOW REDEFINING IT THREATENS RELIGIOUS LIBERTY
THE NEW MASCULINITY
WAIT NO MORE: FINDING FAMILIES FOR WAITING KIDS
TURNING THE TIDE IN YOUR GENERATION
Can't wait to hear what they say about "The New Masculinity" I'm still coping with the old one.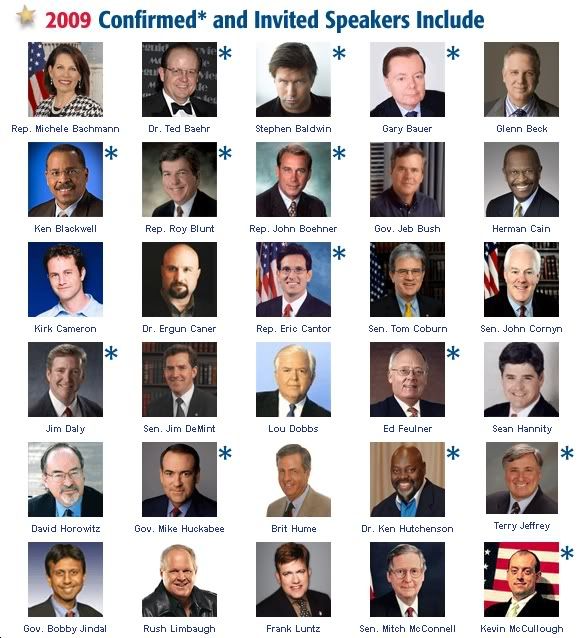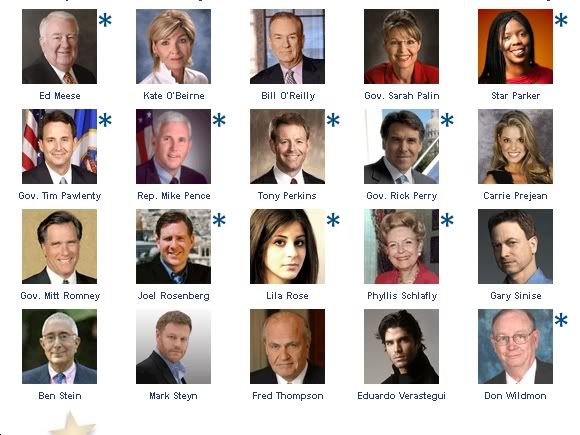 These people are worth watching in the weeks to come. Let's work on some bios and tidbits that will shake up the most stalwart conservative, shall we? Example: who the hell is Eduardo Verastegui? Answer: he's Mexico's hottest hunk, who although he goes to church every day, supported Prop 8 and is rabidly "Pro Life" is rumored to have been Ricky Martin's lover at one time. Or at least Martin's sperm donor.
See what I mean? If, as Pam Spaulding put it, this is to be a rogue's gallery of conservatism, then let's check them out!